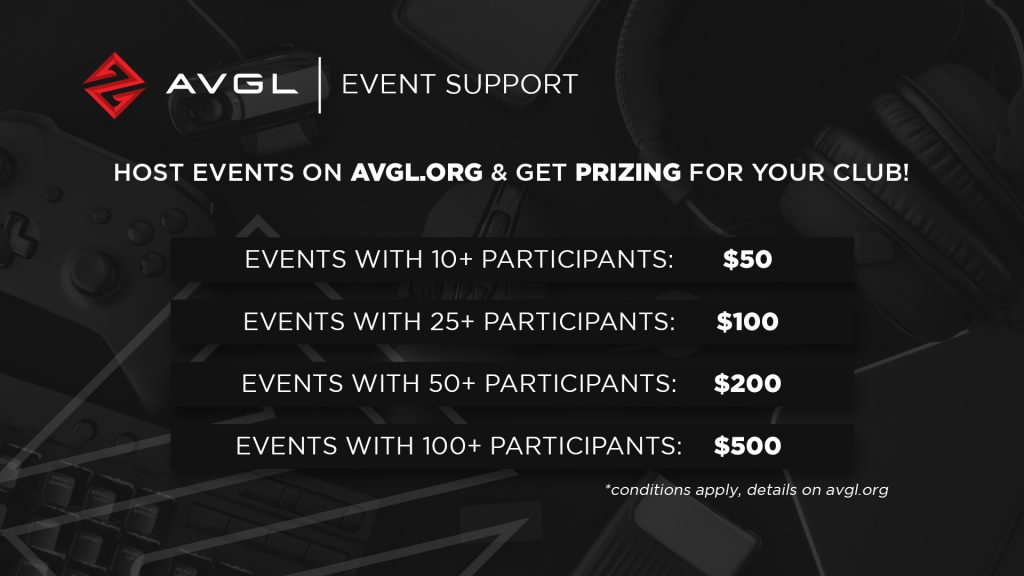 Overview
AVGL is offering event support to esports clubs throughout the Fall 2020 semester! Unlike traditional event support which normally features physical products, AVGL will be offering cash in the form of Amazon gift cards to be used for school club events. Clubs are limited to one event support per semester, so use it wisely!
Application Process
To gain access to AVGL Event Support one person, usually a club leader or college esports director should create a hub on AVGL. Once your hub is setup, create an event on AVGL on your hub page and fill out this form. Event support will be limited to one school per semester and at the discretion of the AVGL staff.
Getting Started with Hubs
Create/Request a hub – https://avgl.org/request-hub

If you believe some else has already created a hub for your school please message a community leader in the AVGL Discord to become an admin
If you need help creating a hub follow this link: https://avgl.org/hub-guide-faq

Create an event for your hub

When on your hub page, click the red button that says 'create event'
Add any admins that are helping run the event
To make changes go to 'My Admin' under your account

Fill out this google form: https://forms.gle/HgVkrzbJWfrSC5JX7

Once you successfully submit the form a team member will reach out to you to approve your event for support
Requirements
You must make at least 1 announcement post about the event
"Follow" AVGL's Discord announcement channels to your school Discord
Pre-event
Now that you've gotten your event setup and approved, it's important you do everything in your power to make it a successful event! Here's a list of everything you must do in order to claim event support.
Promote your event

Your event doesn't need to be restricted to your club members. You can keep it as restricted or open as you want to.

Meet the registration goal you set

If you don't make the registration goal you set you set you have two options

Postpone your event to try and gain more participation
Claim a lower event support package that matches your participation

Market your event on social media and tag @AVGLOfficial or use the hashtag #AVGLassists
During the event
Once you start your event be sure everything runs smoothly. If you run into any trouble find an admin in the AVGL Discord who can help you. We want to make sure your event runs as smoothly as possible for you and your attendees!
Announce on social media that your event has started.

Brownie points if you are streaming it!

Post clips and highlights throughout the event using #AVGLAssists

If you choose to do this, we will share your posts for additional views!
Post-event
After the event is complete please fill out this post-event form: https://forms.gle/2QjYxuGjQiKga4js5.

Once we verify you completed all of the tasks above and met your goals you will receive the payout.
Brownie Points!
Completing these actions will not give you any extra rewards but we will be very grateful for your support as we support you!
Stream the event
Add the AVGL logo on the overlay
Add the AVGL logo in a panel
Add "powered by AVGL" in your graphics or event title